Tweet
How can I stop my homepage from changing
Question
My homepage at comcast.net keeps changing to one with a lot of percentages and an syntax error. I cant keep it on comcast on matter how much I change it. how do I fix this problem?
Answer
This question was answered on April 29, 2004. Much of the information contained herein may have changed since posting.
You need (if you haven't got them already!!)
1. SpywareBlaster from
www.wilderssecurity.net/spywareblaster.html
2. SpyBot Search and Destroy from
www.safer-networking.org
3. Ad-aware from
www.lavasoft.com
4. CWShredder from
www.merijn.org
Read the notes from Merijn (blue, centre of screen and get CWWWSearch.SmartKiller removal tool also and follow the instructions)
When downloaded open the programs and UPDATE them immediately before running them.
ALL are free!!!
All will require regular updating - weekly at least.
SpywareBlaster will run in the background and will not need to be run manually.
BUT - REMEMBER THE UPDATES!!!
Need Help with this Issue?
We help people with technology! It's what we do.
Schedule an Appointment with a location for help!
Author
Posted by Ezequiel of Katharine Gibbs School - New York on April 29, 2004

Newsletter
Sign up for our monthly newsletter and get free tips and tricks to keep your computer running well.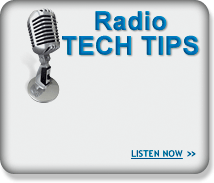 Join us on a radio station near you. Tech Tips for Non-Tech People!