Tweet
Why is my computer playing classical music on its own?
Question
My computer randomly plays classical music! Do I have a virus?
Answer
This question was answered on June 14, 2000. Much of the information contained herein may have changed since posting.
During normal operation or in Safe mode, your computer may play "Fur Elise" or "It's a Small, Small World" seemingly at random. This is an indication sent to the PC speaker from the computer's BIOS that the CPU fan is failing or has failed, or that the power supply voltages have drifted out of tolerance. This is a design feature of a detection circuit and system BIOS developed by Award/Unicore from 1997 on. Although these symptoms may appear to be virus-like, they are the result of an electronic hardware monitoring component of the motherboard and BIOS. You may want to have your computer checked or serviced. This circuit can generally be turned on or off in the CMOS settings. Look for an entry that refers to "CPU warning".
Need Help with this Issue?
We help people with technology! It's what we do.
Schedule an Appointment with a location for help!
Author
Posted by Ken of Data Doctors on June 14, 2000

Newsletter
Sign up for our monthly newsletter and get free tips and tricks to keep your computer running well.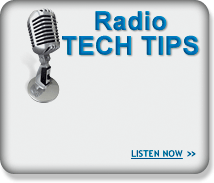 Join us on a radio station near you. Tech Tips for Non-Tech People!