Tweet
Why are there big black lines on the side of my computer screen?
Question
I have these big black lines on the side of the screen. I've done everything on this site and they are still there what can i do now.
Answer
This question was answered on July 25, 2003. Much of the information contained herein may have changed since posting.
THERE ARE 3 POSSIBLE SOLUTIONS TO YOUR PROBLEM.
1. CHECK TO SEE IF YOU CHANGED TO RESOLUTION. IF YOU DID CHANGE IT BACK, THE MONITOR COULDN'T ADJUST TO THE RIGHT SIZE.
2. YOU CAN ALSO MANUALLY ADJUST THE HORIZONTAL OR VERTICAL WIDTH ON YOUR MONITOR .
3. CALL THE MONITOR MANUFACTURE BECAUSE OLDER COMPUTERS (15"MONITORS) AND THE WAY THEY WERE DESIGNED TENDS TO JUST MAKE THE LINES APPEAR.
Need Help with this Issue?
We help people with technology! It's what we do.
Schedule an Appointment with a location for help!
Author
Posted by Student of Katharine Gibbs School - New York on July 25, 2003
Newsletter
Sign up for our monthly newsletter and get free tips and tricks to keep your computer running well.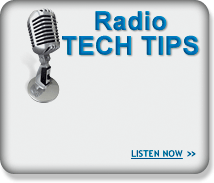 Join us on a radio station near you. Tech Tips for Non-Tech People!