Tweet
Computer Technician
Basic Info
Position Title: Computer Technician
Compensation: Depends upon experience
Hours: Full-Time
Responsibilities
Service and repair Windows-based computer systems, both in the hardware and software areas. Some in-home service, installation, configuration & upgrading of desktop and laptop computers. This position requires someone with a strong ability to both complete technical tasks, and communicate options and solutions (in English - NO GEEK SPEAK!) with customers.
This is one of the most enjoyable positions in all of computer service, because of the constant opportunities to learn new things (never a boring day)!
Qualifications
Must have:
- High school diploma
- Valid driver's license
- A+ certification
- Customer service experience
- Self-motivated with a desire to advance
- Strong communication and organizational skills
Desired:
- Strong computer knowledge
- Previous technical experience
Interested?
Be Your Own Boss
Franchise Opportunities
Data Doctors is looking for individuals who are passionate about technology to join us in owning and operating their own computer service business! We have availability in both existing markets and new markets alike and even have several currently operating locations that are available in Tucson AZ, Vista CA, Boulder CO, Indianapolis IN, Flower Mound TX, Boston MA and Orlando FL available. Find out more about the Data Doctors computer service franchise opportunity now.
Own a Data Doctors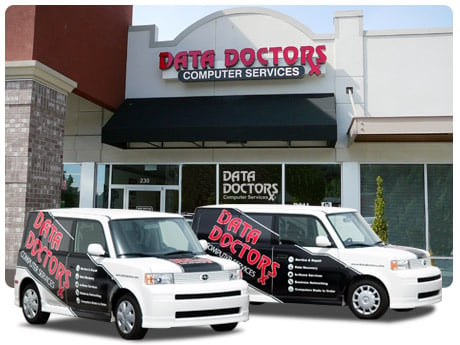 Note: This advertising does not constitute an offering. An offering can only be made by a Franchise Disclosure Document. In California: These Franchises have been registered under the franchise investment law of the state of California. Such registration does not constitute approval, recommendation or endorsement by the commissioner of corporations nor a finding by the commissioner that the information provided herin is ture, complete and not misleading. In Minnesota: Registration Number F-4934. In New York: This advertisement is not an offering. An offering can only be made by a prospectus filed first with the Department of Law of the State of New York. Such filing does not constitute approval by the Department of Law.
How To Apply
Above you will find information on this position. Choose which area you would like to apply for this position, then click the "Apply Now" button to create your profile.
Equal Opportunity Employer
Data Doctors is an equal opportunity employer. It maintains policies and practices that are designed to prevent discrimination against any qualified employee or applicant on the basis of race, color, religion, ancestry, national origin, sex, age, marital status, sexual orientation, disability and medical condition to the extent protected by law. This policy of nondiscrimination applies to all employment practices, including hiring, compensation, benefits, promotion, training, and termination.