Tweet
Data Doctors of Carlsbad - Oceanside - Vista, CA
760-598-7786
On Melrose Drive, just North of Palomar Airport Rd. in the Home Depot center
2440 S Melrose Dr
Suite 102A
Vista, CA 92081

« Back to your closest locations
Recent Reviews
more
Nice job... with the tune up, I avoided buying new software.
-- Tom
Your technician Donny is technically savy and customer service oriented. He kept in contact with my wife and me, to keep us updated of what was going on. If my company wasn't on a hiring freeze I believe I would have offered him a job in our MIS department. He is definetly an asset to your company. He also talks very well of how well you treat him there. Thank You for hiring good people at your company. I've also dealt with your techs in Tempe about a year ago. I had recieved good service there at the time on a hard drive recovery problem. Who ever does the hiring at your company has a knack for choosing good people!
-- Brock
I have already recommended Data Doctors to others!
-- Pete
I am truly pleased with the product, service and price. I bought a PC, 19" monitor, and Windows XP Professional upgrade. I was treated as though I was important and my return business was desired. There was a small glitch with my old system when it was returned to me, but that was taken care of quite expeditiously. I will be a long term customer if I keep getting service and prices like this! Cost a little more but well worth it.
-- Harold
Your man at the Power store (Don) bent over backwards to take care of me and my problems. Beats the hell out of the crowd at the Gateway stores.
-- Jen & Jerry
Open
Close
Sunday
Closed
Monday
9:00 AM
6:00 PM
Tuesday
9:00 AM
6:00 PM
Wednesday
9:00 AM
6:00 PM
Thursday
9:00 AM
6:00 PM
Friday
9:00 AM
6:00 PM
Saturday
10:00 AM
5:00 PM
Member of the
Carlsbad & Vista
Chambers of Commerce
A+, MCP, MCSA, MCSE, Net+ & Security+
Certified Technicians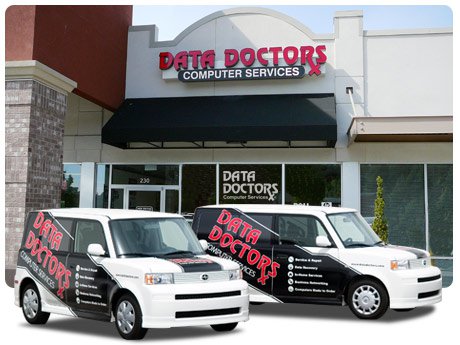 Vista Computer Repair
Data Doctors in Vista provides comprehensive Vista computer repair and networking services for your home and small business. We're also the home of the Data Doctors Quality Care program.
Staffed with Certified computer technicians specially trained in customer service, you can expect expert care to help you with:
Improving the performance of a SLOW COMPUTER.
Virus, spyware and adware removal.
Component repair or replacement for your desktop or laptop.
Wireless networking advice and supplies.
Carlsbad - Oceanside - Vista Data recovery.
A NEW computer that is just right for your needs.
Both Windows and Mac based computers!
Come in for a FREE COMPUTER CHECKUP or call to arrange a HOUSE CALL or Appointment at your Business to provide the solutions you need!
We are your prescription in Vista for computer and network health!
Areas Served by this Location - Vista, Carlsbad, Oceanside, North County, San Diego