Tweet
Data Doctors of Flower Mound, TX
972-539-9096
Serving all of DFW via Remote Support, In-Home and At your Business service!

« Back to your closest locations
Recent Reviews
4.7

on

94
reviews
more
5 /

5

stars
Data Doctors didn't simply meet my expectations, they exceeded them by far.
They were very thorough in their repairing my very damaged computer/hard drive and explained how things work in a non-geek language that I understood, plus I learned a lot.
I would highly recommend Data Doctors to everyone I know. They make the Geek Squad look like amateurs!
Sincerely,
Shannon Morgan
Lewisville, TX 75067
by: Shannon M
4.5 /

5

stars
The main reason for dropping my computer off was to get the headphone jack repaired. When I was contacted on what all was needed to get my computer optimized I understood that the headphone jack was part of the repair, however when I picked my computer up I was told the headphone jack was not repaired and because my computer was a rush job the headphone jack could not be repaired within that time frame. I truly appreciate the fast turn around as I was home on R&R from Afghanistan, but again, the headphone jack is what I needed to work and I would not have spent $328 if I would have been told that the repairs would take longer than I could wait. I would have purchased a $50 dvd player instead.
The overall work seems to be very good
by: Johnathan D
5 /

5

stars
I can't think of any way to improve.
by: Mike A
5 /

5

stars
Chris at the Flower Mound location was extremely helpful. He walked a "computer caveman" through the entire process and was very professional. I would recommend your company to anyone based on his performance.
by: Robert C
4.5 /

5

stars
EVERY THING WENT AS PLANED. I AM COMPLETELY SATIFIED SO FAR.
by: Al T
Member of the
North Texas
Better Business Bureau
Member of the
Flower Mound & Lewisville Area & Grapevine
Chambers of Commerce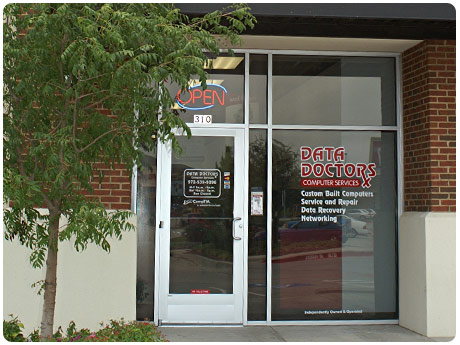 Flower Mound Computer Repair
Data Doctors in Flower Mound provides comprehensive Flower Mound computer repair and networking services for your home and small business. We're also the home of the Data Doctors Quality Care program.
Staffed with Certified computer technicians specially trained in customer service, you can expect expert care to help you with:
Improving the performance of a SLOW COMPUTER.
Virus, spyware and adware removal.
Component repair or replacement for your desktop or laptop.
Wireless networking advice and supplies.
Flower Mound Data recovery.
A NEW computer that is just right for your needs.
Both Windows and Mac based computers!
Call to arrange a HOUSE CALL or Appointment at your Business to provide the solutions you need!
We are your prescription in Flower Mound for computer and network health!
Areas Served by this Location - Flower Mound, Lewisville, Coppell, Grapevine, Southlake