Tweet
Data Doctors of Flower Mound, TX
972-539-9096
Serving all of DFW via Remote Support, In-Home and At your Business service!

« Back to your closest locations
Recent Reviews
4.7

on

94
reviews
more
5 /

5

stars
I appreciated the fact that the repairs were done when promised.
by: Gail R
5 /

5

stars
Outstanding
by: Jeff C
5 /

5

stars
I brought in my old computer which was a mess! Andrew and Shannon were friendly and professional. They kept me informed every step of the way. Even though I'm not very computer literate, they didn't make me feel stupid. They explained everything in a language I could understand. I will definitely use Data Doctors again!!
Sincerely,
Brenda Guiden
by: Brenda G
5 /

5

stars
The service was great, and quick. The tech was very friendly. The only suggestion is if the tech shows and can't do anything but pick up the computer to take back to your office, then the house call fee should be waived. Or, you should let clients know that there is a non-waivable house call fee even if they only pick up the computer.
Tina Plumlee
by: Scott P
5 /

5

stars
You typically dont hear from happy customers, but my issues were resolved quickly and I'm satisfied.
by: Mike P
Member of the
North Texas
Better Business Bureau
Member of the
Flower Mound & Lewisville Area & Grapevine
Chambers of Commerce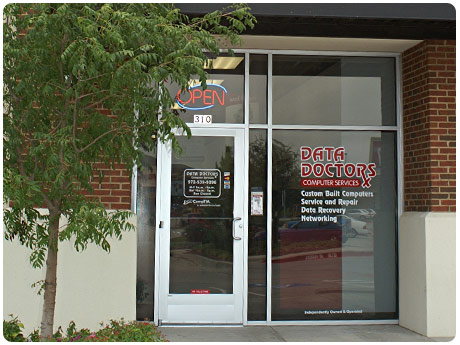 Flower Mound Computer Repair
Data Doctors in Flower Mound provides comprehensive Flower Mound computer repair and networking services for your home and small business. We're also the home of the Data Doctors Quality Care program.
Staffed with Certified computer technicians specially trained in customer service, you can expect expert care to help you with:
Improving the performance of a SLOW COMPUTER.
Virus, spyware and adware removal.
Component repair or replacement for your desktop or laptop.
Wireless networking advice and supplies.
Flower Mound Data recovery.
A NEW computer that is just right for your needs.
Both Windows and Mac based computers!
Call to arrange a HOUSE CALL or Appointment at your Business to provide the solutions you need!
We are your prescription in Flower Mound for computer and network health!
Areas Served by this Location - Flower Mound, Lewisville, Coppell, Grapevine, Southlake