Data Doctors - Experts in reliable business network solutions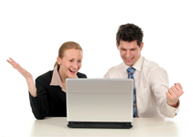 Just about every business in every industry uses computers to increase productivity and efficiency on a daily basis. In addition to being able to create and manage documents electronically, companies use computers to "talk" to each other, thus allowing users to share information. For single location businesses, a local area network (LAN) is usually sufficient for computer-to-computer communication functionality.
LANs do more than just connect workstations, however. They also allow computers to access peripheral devices such as printers, disc drives and modems. Businesses that operate out of separate locations typically require sharing information via a wide area network, or WANNING. WANs are actually comprised of two or more LANs, which are then connected through a public network like a telephone system.
In the business world, networks can be a great asset for companies of all sizes. However, one of the main problems that many businesses face is a result of not properly assessing the real purpose of the network before it is installed. It's important that the network is designed so that staff members can take full advantage of it (eliminating paper records), and that a proper maintenance plan is in place.
At Data Doctors, we specialize in business network solutions for companies of all sizes. Whether you need help deciding which problems a proposed network can solve or need help with an existing network, we can help. Our experienced team of computer technicians is always on hand to make sure you are able to make the most of your investment--whether you are dealing with five computers or 50.
Contact your local Data Doctors Location today to find out what we can do for your business.