Data Doctors - Computer Data Recovery solutions for computer users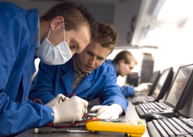 Have you ever tried to boot up your computer only to find it not responding at all? Or even worse, has it started smoking? Computers that are completely "fried" are actually pretty rare, but computers that simply won't start or won't allow you to access your data are unfortunately all too common.
One of the best ways to avoid the need for computer data recovery is to make sure you back up your files. Successful file back up consists of getting all your important files such as projects, address books and emails off of your hard drive. Sometimes it's easier to back up files if everything is stored in separate folders--then you simply need to download that folder on to a separate disc.
When backing up your files, don't try to save programs like Microsoft Word or Outlook--these can all be easily restored from installation CDs. Likewise, operating software such as Windows XP and Windows 7 can be easily restored from the installation CD or "System Restore" CDs that came with your computer. Many additional operating installations, such as those for printers, can also be downloaded off the manufacturer's website.
If you haven't backed up your files, but are unable to access your data, don't panic. At Data Doctors, we specialize in restoring data of all kinds, from presentations to accounting files to emails. We can easily restore your data at one of our neighborhood locations, or we can come directly to your home. We'll get your data back fast, and we'll teach you how to back up files while we're at it.
Contact your local Data Doctors Location today to talk to the experts in Data Recovery.