Data Doctors - Providing expert Computer Hardware Repair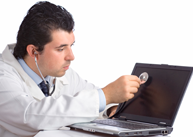 Many have heard how important it is to keep backup copies of important files and data. However, just as many people will put it off, only to be painfully reminded of its importance when their hardware fails. Since the hard disk stores not only data but also all your main programs, it's one of the most important parts of your computer.
It's also the one that gets the most attention when it fails. It can mean the loss of years of work as well as thousands of dollars trying to replace expensive software. There are a plethora of things that can go wrong with your hardware, and problems can be caused from power outages, resource conflicts, memory error, system timing issues and more.
Computer owners who experience hardware failure are often thrown into a state of disbelief. This is usually followed by anger and then the worst--sheer panic. However, at Data Doctors, we specialize in saving our customers from unnecessary panic, and have technicians proficient in computer hardware repair on hand every day. We've worked with every kind of computer and electronic media device there is, and can put our expertise to work for you.
If you don't have the time or wherewithal to bring your computer in to us, we'll be happy to make a house call. Or, if you'd like to visit us in person, we'll give you a free computer check-up while you're waiting for your hardware to get repaired. Even better, we'll help you figure out the best ways to store your important data, so you'll never have to panic again.
Contact your local Data Doctors Location today to talk about your Computer Hardware Repair issues.