Data Doctors - Expert Computer Help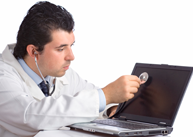 Is your super fast computer suddenly super slow? Are you having problems using more than one program at a time or does your computer sometimes just shut down altogether? Computers are relied on by millions of people to perform everyday tasks both at home and the office.
If you use your computer regularly, you've probably gotten accustomed to having it do what you want when you want it. When it stops "cooperating," either suddenly or over a period of time, it can be incredibly frustrating. In most cases, computers don't start slowing down because of outdated technology (excluding those cases where people are still using IBMs that are 20 years old!).
There are actually a variety of reasons for computers to become sluggish. Viruses can be easily transferred from computer to computer via the Internet, often times without the user ever being aware of it. Many viruses don't cause immediate crashes, but instead begin to steadily affect the performance of different programs.
The amount of RAM on a computer may also affect performance and speed. RAM that was sufficient when the computer was first purchased may not be adequate once new programs, graphics and temporary internet files start piling up. If you're computer is slower than it used to be or if you are having problems with certain programs, give us a call at Data Doctors for immediate computer help. Our certified customer service representatives will give your computer a thorough check-up and will get it operating like it was new again.
Contact your local Data Doctors Location today to get computer help!