Data Doctors - Providing expert Computer Repair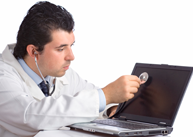 Though computers have made many people's lives easier and business processes more efficient, they are unfortunately not completely failsafe. And because so many people have come to rely on computers for every day usage, they can cause a lot of problems when they break down. And just about every computer--no matter how old or new--is capable of breaking down.
If your computer is simply running slow or seems to be having non-fatal problems, there are a few things you can do yourself before getting professional help. The first thing to do is make sure you read the manufacturer's technical support guide. Every manufacturer should provide a list of troubleshooting steps that when followed may eliminate the problem.
However, computer glitches often occur as a result of human error or viruses, and these are usually not addressed in a guide. One of the best ways to avoid having frustrating computer problems is to regularly check for viruses, delete files from unknown sources and check the amount of RAM being used. Preventative maintenance can go a long way towards keeping your computer running at optimal speed and performance.
At Data Doctors, we don't just fix computers, but we also help prevent problems. We're always happy to visit your home or offer computer repair services in one of our neighborhood locations. We can give any computer a free check-up, so you don't have to wait until the problem gets too serious to take action. That being said, sometimes computer problems just happen--and when they do, we're here to provide fast, professional and cost-effective help.
Contact your local Data Doctors Location today to talk to the experts about Computer Repair.