Data Doctors - We provide Computer Troubleshooting solutions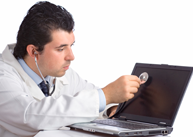 Though computers have made wonderful advancements with regards to people's personal and work lives, they are not without problems. Viruses, hardware glitches, compatibility issues and human error are just a few of the things that can make a computer stop functioning as it should. Fortunately, there are resources available that can help isolate the problem, such as your computer's manufacturing guide.
If you can't find the answer in the guide, try searching online for forums and newsgroups, especially those that focus on your brand of computer. Sometimes, if you're lucky, you may find that someone has described the exact problem you are experiencing. However, you may also find that there are several threads describing problems with no solutions.
At Data Doctors, we specialize in repairing computers that are having problems--even those that appear to have stopped working altogether. Our computer technicians have years of experience with every make and model of computer, and can quickly restore data and get programs working as they should. We understand that most people depend on their computers for a variety of tasks, and that they don't have a lot of time to wait for repairs to be made, which is why we work fast.
We also understand that many people also don't have the time or inclination to bring their computer to us, which is why we also offer in-home services. We can come to your home to help with computer troubleshooting, networking, installing new applications and more. So don't let computer problems get you down… call Data Doctors and let us get you back up to speed.
Contact your local Data Doctors Location today to talk to the experts in computer troubleshooting.