Data Doctors - Providing Data Recovery Service since 1988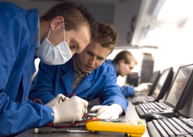 Have you ever stopped to think about how much your data is worth to you? In today's electronic age, more and more people rely heavily on computers to store necessary information. From addresses to presentations to accounting spreadsheets, most people keep their important records on digital files that are stored somewhere on their hard drive.
Computers have increased productivity and functionality both at the home and the office, but there is also a downside. Most people don't bother to print important files anymore, and one untimely power outage or virus can erase everything. And while everyone knows the importance of backing up files on discs, millions of computer users still don't take the time to do this.
Backing up files doesn't take long, and as discs and CDs become less expensive, it doesn't cost very much either. Another option is to store files online with an online storage service, which means never having to search through discs to find what you want. It also means you can access files from anywhere. No matter how you decide to back up your files, however, at Data Doctors we highly recommend it.
That being said, we know that while most people "plan" to store files, they don't actually make it a priority until data has been lost. That's why we specialize in restoring data lost from PCs, laptops and other electronic media--and we do it fast. Even better, our data recovery service includes a free computer check-up, so you can avoid lost files, virus infections, and other computer problems in the future.
Contact your local Data Doctors Location today to talk to the experts in Data Recovery.