Data Doctors - Data Recovery Services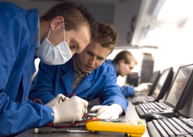 Has your computer ever crashed? If your answer is "yes," then you're not alone, as just about every computer user has dealt with a crashed computer at one time or another. In fact, it doesn't matter if the computer user is an expert or beginner--they are just as susceptible to computer failure. Unfortunately, crashes often lead to a loss of data.
Computers can crash and lose data for a myriad of reasons, sometimes due to equipment failure and sometimes due to human error. However, the reason for the failure is not as important as getting your computer up and running and getting your data back. At Data Doctors, we specialize in recovering data lost as a result of human error, equipment failure, power outages and more.
We know how important your data is, and we also know that many people can't afford to wait for a manufacturer to send a technician to their home. Often times, computers will crash right after their warranty has run out, making it impossible for the customers to get any kind of help from the manufacturer. That's why at Data Doctors, we can get your data back at any time and due to any cause--and we do it fast.
At Data Doctors, we've been recovering data from just about every kind of electronic, optical and magnetic media since 1988. Our computer technicians have years of experience restoring data, and can work with you to recover your lost emails or get your report back in time for that important presentation. We pride ourselves in going "beyond the call," and will take as much time as is needed to teach you how to avoid losing future data, as well as finding your lost files.
Contact your local Data Doctors Location today to talk to the experts in Data Recovery.