Data Doctors Radio Program
iPhone 4s, Facebook Timelines, iOs5, Windex & More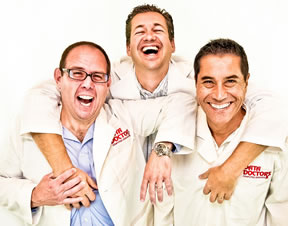 The long awaited iPhone 4s has arrived! It's a great new phone and it's fast as can be. This new iPhone is the first to use iOS 5, so how do you get from where you are, to the cloud? We'll tell you about some of the painful pitfalls and how you can avoid them.

Also, Sprint jumps in the iPhone pool, but is it the right move for you?

You are on Facebook, you've added your Timeline, but how do you fill in the blanks? Your life didn't start with Facebook, we tell you how to fix that.

Would you use Windex on a cut? How about your computer screen?

Listen, Laugh & Learn with Ken, Brandon & Spanky as they give you tech tips to make your busy life easier.

Join us every Weekend as we discuss your computer questions. It's the Tech Show for Non-Tech People! You can post questions on Facebook .
Original Air Date: Oct 15, 2011
This Week's Links