Free Technology Needs Assessment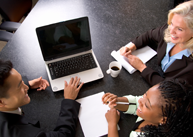 Are you in Control of your Technology or is it in Control of YOU?
Are you constantly reacting to issues or do you have a Proactive Plan?
Are you protected from the major causes of Data Loss?
Is your Wireless Network properly protected?
Do you have a Disaster Recovery Plan?
Is your entire IT system under the control of a single individual?
Technology is what drives business in the Information Age, but improperly managed, it can drive your business in the wrong direction. Let Data Doctors assist you in identifying all of your current and future needs so you can proactively manage your Information Technology in a cost effective manner.
We will meet with you in your business to:
Evaluate Your Current Technology
Identify Your "Pain Points"
Identify Points Of Failure
Identify Potential Security Issues
Identify Your Future Needs
Provide Guidance for Managing All of Your Needs