Tweet
Do I have to convert iTunes songs to burn CDs?
Question
I have all of my music stored in ITunes on my PC. As you know, they are in the form of (AACs). If I want to burn anything onto CD do I have to convert each music file into an MP3 first? If so, is there an easier and quicker way than converting them file by file?
- Bill
Answer
This question was answered on February 19, 2009. Much of the information contained herein may have changed since posting.
iTunes has revolutionized the way we acquire and play our music and the brilliance in the vision of Steve Jobs has allowed Apple's iTunes Store to go from zero to the biggest reseller of music in the world in 5 short years.
One of the key technologies that allowed Apple to become the leader in music sales was the copy protection (often referred to as DRM – Digital Rights Management) that they include in the music they sell. The music industry has been battling music piracy since Napster hit the scene and Apple created a way to sell music that could not be easily copied or shared.
When it comes to burning your iTunes songs onto a CD, it depends upon a number of factors. If you purchased the music from the iTunes Store, it has the copy protection imbedded so you can't just copy it to a CD as a data file, but you can burn a standard audio CD like the ones that play in a traditional car audio or home CD player.
You do not need to convert the files to MP3 in order to create traditional audio CDs, you would simply use the Burn option built into iTunes.
iTunes requires you to create "playlists" in order to burn audio CDs, so the first thing you need to do is create the playlist of the songs that you want to put onto the audio CD. Click on the File menu, the on 'New Playlist" (or Ctrl+N) which will create a new entry at the bottom of the 'Playlists' section of the iTunes program.
The default playlist name is 'untitled playlist' which can be changed to whatever you would like by clicking on it twice and typing your desired label.
Once the name has been chosen, you need to select the songs to add to the playlist in your music library. As you find the songs you want on the CD, right-click on them, select 'Add to Playlist" and then on the desired playlist name.
Generally speaking, you can get @ 20 songs to fit on an audio CD and iTunes will manage the process if you need more than one disk to get your playlist burned.
The complexity comes in when you want to take your purchased iTunes Store music and want to keep it in a digital audio format and play the songs on something other than iTunes or your iPod or iPhone. This is when the DRM comes into play and must be stripped off if you want to convert it for a non Apple MP3 player.
The process I described for creating audio CDs is actually the first step to stripping off the DRM as once it is converted to an analog format, you can immediately copy (or Rip) it back into iTunes as a traditional MP3 file.
In order for this to work, you must change the default setting in iTunes for importing to 'MP3'. Click on the Edit menu, then on Preferences (or Ctrl+,) then on the 'Import Settings' button in the middle.
Select the MP3 Encoder option in the 'Import Using' menu then choose your desired quality setting. The 160 kbps default choice is adequate for most everyone, with the exception of the purest that prefers audio quality over smaller file size.
Finally, if the AAC songs in your library came from CDs that you previously ripped yourself, then you can simply right click on them (individually or as a group) and select the 'Create MP3 Version.
This will put a copy of the song in the default 'import' folder which is generally where all your music is already (Edit, Preferences, Advanced will verify where that folder is).
Need Help with this Issue?
We help people with technology! It's what we do.
Schedule an Appointment with a location for help!
Author
Posted by Ken of Data Doctors on February 19, 2009

Newsletter
Sign up for our monthly newsletter and get free tips and tricks to keep your computer running well.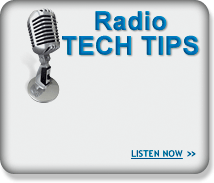 Join us on a radio station near you. Tech Tips for Non-Tech People!