Data Doctors - Expert Data Recovery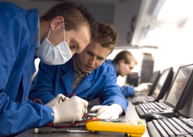 Many people in today's workforce have paused to wonder how they ever operated before computers became widely available. There's hardly an office in the country that doesn't have at least two computers, and most homes enjoy the daily benefits of personal computers as well. People store all sorts of important documents and data on their computers, such as word files, presentations, spreadsheets and even their taxes.
Though computers have made life in general more efficient both at home and at the office, there is a downside. Computers aren't failsafe, and sometimes precious data that you rely on suddenly "vanishes." Data can get lost for many reasons, including power failure, viruses, formatting error and even just plain old human error.
The good news is that while data can seem to vanish (sometimes way too easily), in most cases, it can be found and restored. At Data Doctors, we've been helping our customers restore valuable data for work or personal use since 1988. Our certified customer service representatives are experts in working with computers of every shape, size and model. We know how frustrating it is to lose your data, and we have intimate knowledge of "recovery tricks" that can be used to find it.
One of the reasons our customers come back to us again and again is that we go the extra mile. Our friendly and knowledgeable staff won't try to overwhelm you with complicated technology terms (unless you want us too), and will even give your computer a free check-up while working on restoring the data. So don't get mad at your computer's empty search results… get even, and give Data Doctors a call.
Contact your local Data Doctors Location today to talk to the experts in Data Recovery.