Tech People. For Non-Tech People
Personal Computer Repair Solutions
The IT Department for Everyone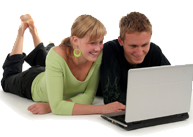 Let us be your personal IT Department. Tell us what you need help with.
When your computer starts running slow or takes forever to get going, you should get going...to Data Doctors. We focus on high-quality computer repair, PC maintenance, equipment and computer service in our locally owned, neighborhood stores. You can count on Data Doctors to get your computer running like it used to, no matter the problem. Our computer repair service is completely thorough. We check every computer for spyware, viruses, and malware.
Testimonials
Paul always does a wonderful job for us. He is always willing to listen to concerns and answer questions.
-- Cathy

Your tech explained the two problems in an easy to understand way. I am not a 'techie' but could easily comprehend the problems. Thanks.
-- Sue