Tech People. For Non-Tech People
Personal Computer Repair Solutions
The IT Department for Everyone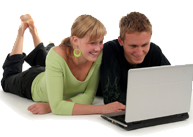 Let us be your personal IT Department. Tell us what you need help with.
When your computer starts running slow or takes forever to get going, you should get going...to Data Doctors. We focus on high-quality computer repair, PC maintenance, equipment and computer service in our locally owned, neighborhood stores. You can count on Data Doctors to get your computer running like it used to, no matter the problem. Our computer repair service is completely thorough. We check every computer for spyware, viruses, and malware.
Testimonials
I have already recommended Data Doctors to others!
-- Pete

I am truly pleased with the product, service and price. I bought a PC, 19" monitor, and Windows XP Professional upgrade. I was treated as though I was important and my return business was desired. There was a small glitch with my old system when it was returned to me, but that was taken care of quite expeditiously. I will be a long term customer if I keep getting service and prices like this! Cost a little more but well worth it.
-- Harold