My bank is recommending that I use Trusteer Rapport along with Sophos for protection for my Mac. Do you agree?
- Lynne
This question was answered on May 6, 2014. Much of the information contained herein may have changed since posting.
---
Apple has done a great job of convincing the computer using public that they have nothing to worry about if they use a Mac, which is beginning to become a dangerous mindset.
There is no question that the number of exploits that specifically target Mac users is a fraction of what Windows users are exposed to, but that doesn't mean that there are no threats if you use a Mac.
The first 'virus' directed specifically at Apple computers dates back to 1982 with lots of other attempts to specifically attack Mac OS X that followed, especially in the past decade.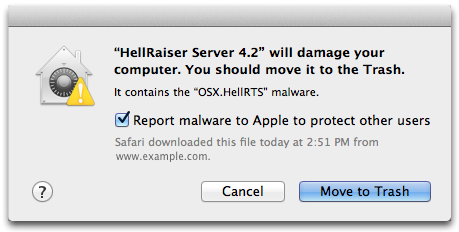 The most dangerous malware targeting Macs are Trojans that hide in other programs, so be very careful what you download and always be suspicious when your computer asks you to type your Admin password out of the blue.
You're operating system is just one attack vector for cybercriminals; your web browser, Java, Adobe Flash and other popular utilities are also constantly under attack as they provide a path to your computer as well.
You're banks suggestion to use Trusteer Rapport on your Mac is a great example of the changing landscape of malicious activity on the Internet.
Rapport is primarily a browser-based security program that focuses on financial malware and phishing scams, which has little to do with which operating system you are using.
Falling for a sophisticated socially engineered financial scam will impact you equally whether you are using Windows or Mac OS.
Rapport is designed to sniff out fake websites, phishing scams and other fairly common attempts to trick you if you aren't paying attention.
Some users have complained of performance issues after installing Rapport and others have experienced compatibility issues with other security programs. We've seen lots of issues with Windows machines running Rapport in our shops, so it's kind of hit or miss based on your specific configuration.
If you only go to your banks website via a saved bookmark that you created or use the mobile app that your bank offers, I don't think installing Rapport is necessary.
If you never click on a link in an e-mail message or open an attachment, you will substantially bypass the vast majority of the scams that are financially based.
As to the question of whether you should install antivirus software on your Mac, there is no simple answer.
In general, current versions of OS X incorporate a malware scanner called XProtect that can sniff out the known malware that is circulating the Internet, but it isn't bulletproof.
On one hand, installing antivirus software provides you with an extra layer of protection as Mac specific exploits are discovered by security firms.
On the other hand, you might notice a slight decrease in performance as the security software will have to jump into action to check things as you go about your business.
The biggest risk you face is with your browser, so make sure you keep it updated. Apple's Safari browser recently had an update that patched 27 security issues, so don't ignore those update notices that you get on your machine.
I prefer to use Google Chrome instead of Safari on Macs because it's got some unique security features built-in and it tends to be faster. Chrome also has a huge library of free add-ons that can further improve your security when surfing.
About the author
Posted by Ken Colburn of Data Doctors on May 6, 2014

Need Help with this Issue?
We help people with technology! It's what we do.
Contact or Schedule an Appointment with a location for help!