What tips can you suggest for getting decent fireworks pictures with my smartphone?
This question was answered on July 3, 2014. Much of the information contained herein may have changed since posting.
---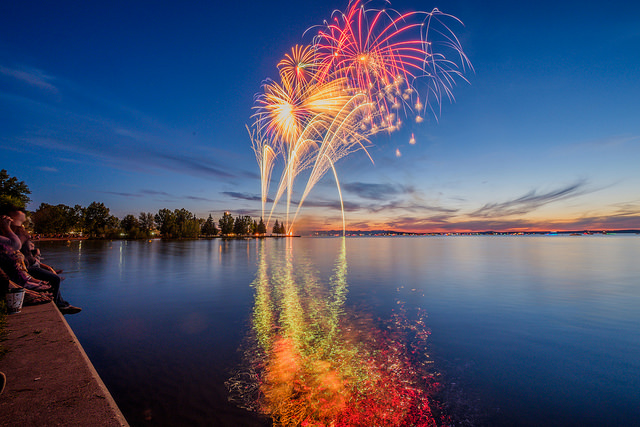 (Image courtesy of Alan Paone https://www.flickr.com/photos/97668927@N06)

The sophistication of the smartphone camera continues to improve, but one area that most of them still falter in is low-light settings.
Capturing fireworks the way you see them in magazines may be a stretch, but getting a shot worthy of a social media post or for your memory books is certainly achievable.
Getting familiar with your camera setting prior to the big show is the biggest tip I can give you. Assuming that the camera will figure everything out automatically will generally result in pretty poor results.
The first thing you should do is turn off both the flash and any HDR settings your camera may have.
HDR or High Dynamic Range is great for getting shots where there's variable lighting in the frame, such as people standing in front of a sunset but not fireworks. It tells your camera to take multiple shots at different exposures and combine them afterwards.
With fireworks, this will result in blurred images as each frame will be slightly different so make sure you turn it off.
Holding still is another huge key to getting a clear shot, so if possible, get a smartphone tripod that gives you a much better chance of keeping still.
Some cameras have a stabilization feature that will also help, so turn it on if you have it.
If your camera has a fireworks or night mode, use it and if you can manually set the ISO, try starting around 400 and work up and down from there.
If your camera has a burst mode, which takes several pictures in succession, turn it on so you will have many more images to choose from.
The vantage point you choose to take the images will also play a major role in the outcome. Try not to setup right underneath the fireworks for the best shots. Look for a higher vantage point that keeps the show more in front of you rather than over you.
If you want to go for a really interesting shot, try to frame the fireworks with other objects like a body of water or city skyline (another great reason to find a higher vantage point).
When the show starts, use the first couple of fireworks to make sure your camera is focusing in the right area by tapping the screen as they explode. This will also allow the camera to adjust its metering so when you start taking shots, it's set to go.
The fireworks may seem a little small on your screen when you take the pictures, but avoid the urge to use your smartphones digital zoom.
Digital zoom essentially is cropping the image, not actually zooming, so do your cropping afterwards with a real image editing program such as Adobe's free Photoshop Express app.
If you want to take a completely different approach, there are apps that allow you to extract images from video, but don't expect the same level of quality.
iPhone users should take a look at StillShot ($0.99) which allows you to scan the frames from a video and save them as photos right from your phone.
Android users can use AndroVid Video Editor (free) to do the same thing as well as many other things that may come in handy for just about anything you might want to do with video.
About the author
Posted by Ken Colburn of Data Doctors on July 3, 2014

Need Help with this Issue?
We help people with technology! It's what we do.
Contact or Schedule an Appointment with a location for help!