Tech Tips for Non-Tech People!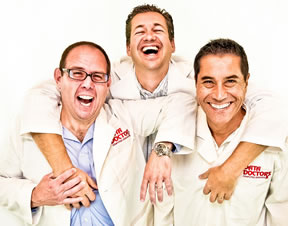 We give quick, one minute tech tips each weekday! Join us on a radio station near you as we talk tech. It's Tech Tips for Non-Tech People! You can post questions on
our Facebook page
anytime!
Original Air Date: Jul 23, 2013
Turn YouTube into a Jukebox

Download the MP3
It's time for another Data Doctors Tech Tip!

If you love music as much as we do, you probably already use sites like Pandora and Grooveshark, but did you know that one of the best places to find great music is actually YouTube?

YouTube has over 100 hours of video uploaded to it every minute of every day and that means lots of unique music from your favorite artists awaits you.

The problem with using YouTube to find all that great music is that you have to do a lot of work, unless you get smart!

Instead of having to manually click on videos or manually build a list of videos to watch, try this little trick out: got to http://YouTube.com/disco and type the name of one of your favorite artists into the system.

This music discovery project will compile a huge list of videos from that artists and start playing them like a jukebox.

Not sure what you want to listen to? Click on the Top 100 link and discover what the rest of the world is watching and listening to on YouTube and discover something new!

Feedback