Tech Tips for Non-Tech People!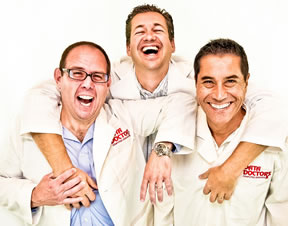 We give quick, one minute tech tips each weekday! Join us on a radio station near you as we talk tech. It's Tech Tips for Non-Tech People! You can post questions on
our Facebook page
anytime!
Original Air Date: Aug 14, 2013
Expand Your Vocabulary

Download the MP3
It's time for another Data Doctors Tech Tip

Thanks to the Internet, vocabulary seems to be something that is slipping away from way too many of us.

Abbreviations, made up words and sloppy grammar are more common than ever, but you don't have to be one of the crowd.

We love bombastically flamboyant wordsmiths and if you want to sharpen your vocabulary skills, we've got a really fun place to do it!

Its http://vocabulary.com and we must warn you, it's highly addictive.

Regardless of your education level or age, you can't help but learn lots of great words and how to use them with the challenge quiz that awaits you.

If you sign up for a free account, they can build a model of knowledge based on what it predicts you don't know based on what you get wrong during the quizzes.

If you're a word nerd, you'll love the vocabulary lists and blog posts that celebrate the magnificence of a well-rounded vocabulary.

Vocabulary.com…make sure you have the time before you visit and don't say we didn't warn you!
Feedback