Tech Tips for Non-Tech People!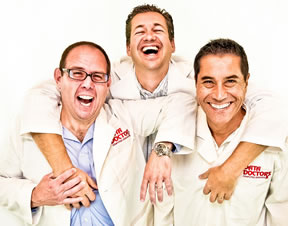 We give quick, one minute tech tips each weekday! Join us on a radio station near you as we talk tech. It's Tech Tips for Non-Tech People! You can post questions on
our Facebook page
anytime!
Original Air Date: May 11, 2020
Smartphones & Bluetooth Keyboards
We're all doing so much more with our smartphones these days, including tasks that in the past would only be done while sitting at a computer.

The challenge to getting real work done on a smartphone is the keyboard as an interface.

Even if you have tiny fingers, tapping out a lot of text isn't the most efficient way to get things done.

A wonderful alternative is the ever-advancing voice recognition technology, but in many cases, it's still not the best way to go.

Having a regular keyboard for large quantities of text input is still the best option, which you can actually use even with a smartphone.

If you have a tablet, many of you have a Bluetooth keyboard to make things work better but hadn't thought about it being of use on your smartphone as well.

Since it's Bluetooth, it's really no different than any other device that connects that way, so pairing the keyboard is quick and easy.

It's not ideal for everything, but if you already have a Bluetooth keyboard, keep in mind that it can connect to any of your mobile devices in a pinch!
Feedback