Tech Tips for Non-Tech People!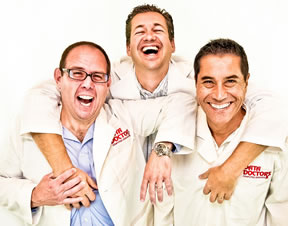 We give quick, one minute tech tips each weekday! Join us on a radio station near you as we talk tech. It's Tech Tips for Non-Tech People! You can post questions on
our Facebook page
anytime!
Original Air Date: Aug 14, 2015
Turn Your Phone's Flashlight Into a Lantern
Using a smartphone as a flashlight has become a pretty handy tool for most of us because we always have our phones with us.

It's great when you want to shine light in a specific direction, but sometimes you might find it more useful if it was more like a lantern.

Well, there's an easy way to turn your smartphone's flashlight into a lantern for better dispersion of light.

All you need is a rubberband and a plastic bottle of water that's full to make it happen.

Simply attach your phone to the water bottle with the rubberband making sure your phone's flashlight is facing into the bottle.

Avoid pointing it at the label or better yet, remove the label from the bottle altogether for the best results.

It's a handy trick for camping, when you're forced to work on something in the dark or leading a group of people around at night.

This little trick will make you look like a real life MacGyver.
Feedback