Data Vault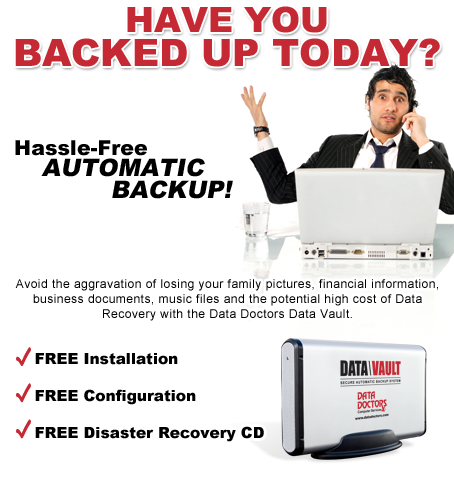 Award-winning and easy-to-use, the Data Doctors DATA\VAULT is the perfect solution for your backup and storage needs. With our Platinum Series, you get a whopping 1.5TB for storage, effortless backup and a disaster recovery plan to keep your data safe!
Installation Included
A Data Doctors Professional will install, configure and perform your first full backup for you!
Automatic Backup
As long as the unit is plugged in, the DATA\VAULT will automatically scan your computer's main hard drive and copy only those files that have been changed or created since the last backup was performed. With a USB 2.0 data transfer rate, the speed is blazing!
Disaster Recovery Technology
The DATA\VAULT backup solution provides easy recovery from even the worst data catastrophes such as:
Lost Files or Folders
Simply access the Data Vault & drag-and-drop missing files or folders back to your computer. Or, use the new "QuickRestore" option to recovery previously deleted data files from your system's hard drive.
System Failure
Simply connect the DATA\

VAULT

to any computer for immediate access to all your data files, allowing you to keep working even when your computer doesn't.
Windows Corruption
With the included Rescue CD, performing a complete system recovery is a snap!
Bootability
In the event of a primary drive failure, we can swap the drive in the DATA\

VAULT

with your failed system drive and get you back in working order in mere minutes.