Tech Tips for Non-Tech People!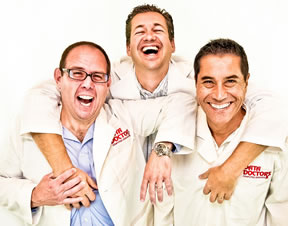 We give quick, one minute tech tips each weekday! Join us on a radio station near you as we talk tech. It's Tech Tips for Non-Tech People! You can post questions on
our Facebook page
anytime!
Original Air Date: May 3, 2017
Smartphone Keyboard Alternatives

Download the MP3
If you're like me and find that you're using a smartphone for productivity tasks these days, you have probably already realized the biggest bottleneck: the keyboard.

While today's on-screen keyboards are great, they can be a bit of a challenge even for those with small hands when trying to type a large amount of text.

An alternative that's effective is using the voice recognition option as an input, but so many of us are still too keyboard concentric.

If you have to type a lot of text or work within a spreadsheet, a full-size keyboard is just more useful, so you can make it so!

Most tablet users are already familiar with connecting a wireless Bluetooth keyboard to their large devices, but haven't thought about connecting it to their phones.

The setup process is much the same as with all Bluetooth devices, so it is easy to get connected.

Virtually any Bluetooth keyboard has the ability to attach to any mobile device, so if you've already bought one for another device, now you know you can use it on your smartphone as well!
Feedback