Tech Tips for Non-Tech People!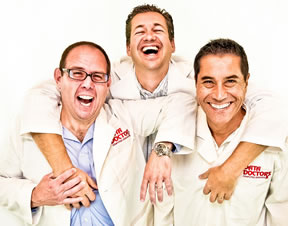 We give quick, one minute tech tips each weekday! Join us on a radio station near you as we talk tech. It's Tech Tips for Non-Tech People! You can post questions on
our Facebook page
anytime!
Original Air Date: May 24, 2013
Tech To Know If Fido Is Fit

Download the MP3
Is your puppy porky?

It your fido fat?

If your dog makes a better rug than running partner, you might want to listen to this Data Doctors Tech Tip.

Do you sit and wonder if your dog sits around too much? A new device for your dog called FitBark can let you know if he's lazy.

The device keeps track of how active your dog is, and then gives you something called a daily BarkScore.

Until now there have only been fitness options for humans — RunKeeper, NikeFuel, FitBit but nothing for our four legged friends.

Through a small device on your dog's collar, FitBark can let you know how your dog is doing at any given moment.

If you're out of town, you can see exactly when the dog sitter took your furry friend for a walk, and even how long the walk was.

If fido feels under the weather, you can give your vet exact details about your dog's activity over the past few days, including how long your pooch has been sleeping.

The BarkScore lets you quickly see how much activity your pooch has gotten during the day, and they need a little more. That should keep his tail wagging!

We've got the answers to your technology questions.

All you have to do is bark at us at facebook.com/datadoctors.

Feedback