Tech Tips for Non-Tech People!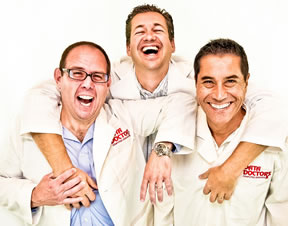 We give quick, one minute tech tips each weekday! Join us on a radio station near you as we talk tech. It's Tech Tips for Non-Tech People! You can post questions on
our Facebook page
anytime!
Original Air Date: Jul 18, 2013
Let Me Google That For You

Download the MP3
Are you tired of having friends and family ask you for help on something that they could have easily Google'd for themselves?

It's time for really fun Data Doctors Tech Tip

If you seem to be the go-to answer person for everyone around you, congratulations!

But how often are you getting questions that you immediately ask yourself "why didn't they just Google this question themselves"?

Well, you don't want to make people feel bad, but wouldn't it be great if you could drop a subtle hint to use Google to try to find the answer next time?

That's where Let Me Google That For You.com comes in! It creates a link to an animation that literally shows them how they could have gone to Google and typed in the question to get the answer themselves!

It's a fun way to still help them but show them how they can find the answers themselves in the future if they just think to Google it first!

http://LetMeGoogleThatForYou.com …bookmark it today!
Feedback