Tech Tips for Non-Tech People!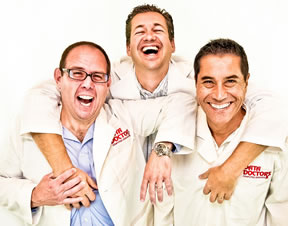 We give quick, one minute tech tips each weekday! Join us on a radio station near you as we talk tech. It's Tech Tips for Non-Tech People! You can post questions on
our Facebook page
anytime!
Original Air Date: Aug 2, 2013
Online Image Editing

Download the MP3
It's time for another Data Doctors Tech Tip

We love digital photography and are always on the lookout for tools that make editing and managing your precious memories easier.

One of our favorite tools is http://PicMonkey.com, that's P I C monkey.com, because all you need to use it is a browser.

There's no software to install, or registration required to get started, just upload your picture and start editing!

The dozens of editing tools range from the basics like cropping, resizing and rotating to adding text, effects, frames and a whole host of touch up tools.

You can even create your images in a collage without having to bounce back and forth between the editor.

If you're an old pro, stick to your expensive editing software, but for you casual photographers, PicMonkey makes advanced photo editing a snap!

Feedback