Tech Tips for Non-Tech People!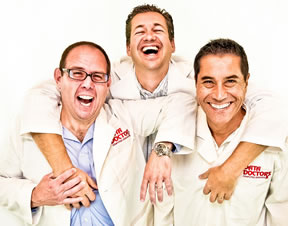 We give quick, one minute tech tips each weekday! Join us on a radio station near you as we talk tech. It's Tech Tips for Non-Tech People! You can post questions on
our Facebook page
anytime!
Original Air Date: Sep 17, 2013
iOS 7

Download the MP3
It's time for another Data Doctors Tech Tip

If you own a relatively current iPhone, iPad or iPod touch, you'll be able to update to the latest operating system, iOS 7 starting tomorrow.

iOS 7 has some really intriguing improvements to things like Siri and notifications as well as new features like AirDrop for direct sharing of pictures, videos and contacts.

But before you jump into the iOS 7 pool, we remind you that 'pioneers get arrows, settlers get land'

Anytime a major operating system update is released from any company, you can count on minor bugs to major uh-ohs.

If you're the "I gotta have the latest before everyone else" type, go for it. If you'd rather avoid the potential irritations, hold off until a few million others have taken the plunge.

We inevitably hear about all the problems within a few weeks of the release and in some cases hear about an expected fix for newly discovered issues.

iOS7 is also a pretty radical redesign, so make sure you see it on someone else's phone or tablet before you decide to update.

We've heard a lot of grumbling about the change in design from those that were testing pre-release version.
Feedback