Tech Tips for Non-Tech People!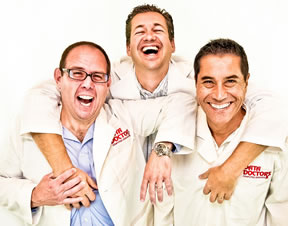 We give quick, one minute tech tips each weekday! Join us on a radio station near you as we talk tech. It's Tech Tips for Non-Tech People! You can post questions on
our Facebook page
anytime!
Original Air Date: Feb 12, 2021
Video Floodlight & Doorbell Tips
More and more options exist to add video cameras to our doorbells and spotlights, which is amazing when it works and frustrating when it doesn't.

The sense of security that comes from having an app on your phone that will alert you whenever the camera or the doorbell sense any activity is awesome, but it relies on having a solid wireless signal from your router.

Common complaints about performance on many of the popular models is often not an issue with the device, but an inadequate wifi signal for streaming live video.

This means that anyone considering the purchase of any of these devices should first thoroughly test the wifi signal in the areas that they intend to set them up.

It's also important with video doorbells to know if you'll have power wired to the door so you'll know whether to purchase a battery-operated version instead.

All security cameras are going to have challenges in the afternoon if they are pointing due West because of the setting sun.

The easiest way to check the signal quality where you plan to install a camera is by putting your phone in airplane mode and turning on wifi to do the test.
Feedback