Tech Tips for Non-Tech People!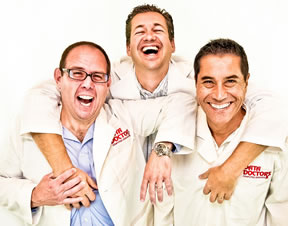 We give quick, one minute tech tips each weekday! Join us on a radio station near you as we talk tech. It's Tech Tips for Non-Tech People! You can post questions on
our Facebook page
anytime!
Original Air Date: Oct 4, 2013
CardMunch and CamCard Free business card scanners

Download the MP3
It's time for another Data Doctors Tech Tip

If you're in business, you should be using LinkedIn and if you are on Linkedin AND you have an iPhone, you should definitely be using the CardMunch app to make connections easily.

Cardmunch takes a picture of a business card and then automatically finds that person on Linkedin so all you have to do is click on the Connect button to make the connection.

Unfortunately, they still haven't created a version for Android users, but if you want a solid business card scanner for android phones that makes it easy to get connected on LinkedIn, we'd highly recommend CamCard Free.

Of all of the business card scanners we've tested so far, CamCard's higher accuracy rate and ease of use stand out from the rest and you can manually search for them on LinkedIn just by tapping on the icon.

CamCard is also available for iPhone, iPad, Windows Phone and Blackberry users and can add the scanned contact information to just about any address book.

Feedback