Tech Tips for Non-Tech People!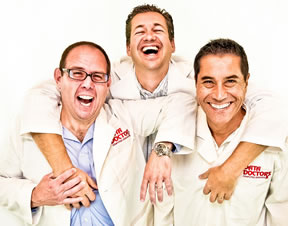 We give quick, one minute tech tips each weekday! Join us on a radio station near you as we talk tech. It's Tech Tips for Non-Tech People! You can post questions on
our Facebook page
anytime!
Original Air Date: Jul 24, 2015
Waterproof Case for Summer
If you're an outdoor person, keeping your iPhone protected while you're out and about is generally accomplished with a good case.

A good case can protect your phone from the two most common problems: dropping it and getting it wet.

If you're really hard-core, you may want a submersible waterproof case that still allows you to take great pictures above and below water.

This crazy combination can be achieved with the Optrix adventure cases from Body Glove.

They're waterproof to one atmosphere for all you scuba divers, that's 33 feet for you snorkelers and they've been drop tested up to 20 feet.

What really separates them from all the other cases I've seen are the interchangeable lenses that add telephoto, wide angle and macro capabilities to your camera while it's still in the case.

You can get that great shot or video without having to worry about hurting your expensive phone.

If you spend a lot of time outdoors, checkout all the options and accessories for iPhones at http://Optrix.com that's O P T R I X.com.

Feedback