Tech Tips for Non-Tech People!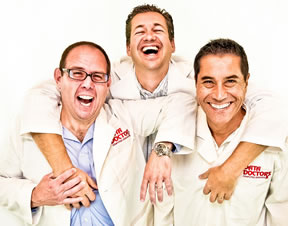 We give quick, one minute tech tips each weekday! Join us on a radio station near you as we talk tech. It's Tech Tips for Non-Tech People! You can post questions on
our Facebook page
anytime!
Original Air Date: Feb 22, 2016
What Dog Do You Look Like

Download the MP3
How many times have you seen a dog owner that looked a lot like their dog?

Is it pure coincidence or was there some natural attraction to a familiar looking face?

Well, you no longer have to guess, because now you can use sophisticated computing technology to see what dog breed you resemble the most.

Microsoft's What-dog.net project allows you to search for or upload a photo of anyone to see which breed they would most resemble.

In my case, depending on which picture I use, it's either a Staffordshire Bull Terrier, which is strong, driven to prey on smaller creatures and affectionate or a German Shepard, which must be kept busy, is intense and highly intelligent.

As you can imagine, the Internet has gone wild using pictures of family members, celebrities and politicians with some pretty hilarious results.

If you're trying to figure out which breed of dog will be your next family member or want help choosing the next president, give https://what-dog.net a try!
Feedback