Tech Tips for Non-Tech People!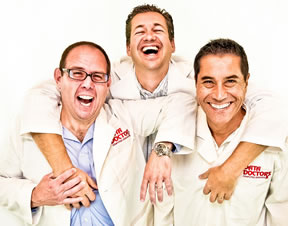 We give quick, one minute tech tips each weekday! Join us on a radio station near you as we talk tech. It's Tech Tips for Non-Tech People! You can post questions on
our Facebook page
anytime!
Original Air Date: Apr 4, 2013
Google Maps For Big City Commuters
It's time for another Data Doctors Tech Tip.

Google Maps has been leading the way when it comes to getting from here to there.

If you're morning commute involves roads, bridges, freeways and side streets, you'd be hard pressed to find a mapping program with more data and accuracy.

But what about you urban dwellers? What if your commute involves mass transit like buses and subways?

Google Maps to the rescue! Yes Google Maps!

Google Maps now has real-time subway data for seven lines in New York City. These include the 1 through 6, and the Times Square - Grand Central shuttle. The other lines need an expensive overhaul before they'll be able to provide real-time data.

Metrorail riders in Washington, D.C. will also now receive up-to-the-second alerts via Google Maps. And, public transit-goers in Salt Lake City, can now get bus and tram information in real time.

Look for Google Maps transit data where you live. Like everything google, it's enroute to your city.

Just remember... most subway stations don't have WiFi, so you want to check on transit, before you head underground.

We've got the answers to your technology questions.

All you have to do is ask.

Go to facebook.com/datadoctors.
Feedback