Tech Tips for Non-Tech People!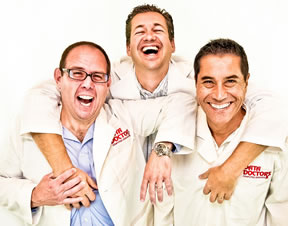 We give quick, one minute tech tips each weekday! Join us on a radio station near you as we talk tech. It's Tech Tips for Non-Tech People! You can post questions on
our Facebook page
anytime!
Original Air Date: Aug 7, 2013
Free Online Faxing

Download the MP3
It's time for another Data Doctors' Tech Tip.

The fax machine is quickly becoming a communications relic, but on occasion, you'll run into someone that insists that you fax them a document.

Generally speaking, scanning the document and e-mailing it should suffice, but if they insist on you sending it to their fax machine and you dumped yours years ago, we've got a solution for you

It's http://FaxZero.com and it's free if you have 3 pages or less to fax and don't mind an ad on the cover page of whatever you are sending.

If you have a larger document, they charge a dollar ninety-nine for up to 15 pages or you can send it in pieces for free.

Simply upload Word files or PDFs, enter your receiver's info, type what you want on the cover page and off you go

http://FaxZero.com, the perfect tool for those moments that require you to transmit old-school!

Feedback